"Avoid the expense of maintenance shutdowns, loss of production and belt damage. Fitting Brockway EnduraRoll will SAVE you precious time and money."
The Ultimate in High Performance & Reliability…
Brockway EnduraRoll has been developed specifically for medium to heavy duty applications and for operation in all conditions relating to bulk material handling, stacking, reclaiming, quarrying, biomass energy and shipside operations.

Precision Machined Bearing Housing
Bearings are precision mounted in a cast iron encapsulated housing. This ensures correct mounting and eliminates misalignment; providing greater reliability plus significantly increasing roller life. All bearings are factory greased and sealed for life – significantly reducing contamination and therefore extending bearing life.

SandBloc Bearing Protection System
Fitted as standard, SandBloc provides the ultimate in bearing protection. Developed over 50 years, Sandbloc has been operating with supreme efficiency in abrasive, dusty environments of extreme temperatures. The 5-part multilabyrinth sealing system protects against ingress from the smallest of particles in the most hostile of environments.
"Designed specifically for medium to heavy duty applications and ultimate reliability in extreme climatic conditions …"
Patented Concept and Design
Developed specifically for medium to heavy duty applications and for dusty, open weather conditions of Stacking & Reclaiming of raw materials, the EnduraRoll product is a Brockway patented concept and design. The sealed bearing unit is enclosed in a cast iron bearing housing which is precision mounted into the roller body then peened to eliminate the possibility of any sharp edges that would damage the conveyor belt. The design has been developed after many years of testing and operation. Brockway Inboard Bearing Technology has been used on medium and heavy duty applications since the 1950s. Many years of experience in the use of these idlers when working with Steel, Cement Quarrying, Mining and Power Generation plants, has proved that they outperform any other idlers. Designed for busy and intense use, these idlers offer the greatest reliability.
Quarrying
Biomass Energy
Shipside Operations
Cement and Gravel
Steel Works & Mining
Power Generation
Ship Discharge of Materials
Dredging
Sugar Refining
Fertiliser
Food Industries
Bulk Material Handling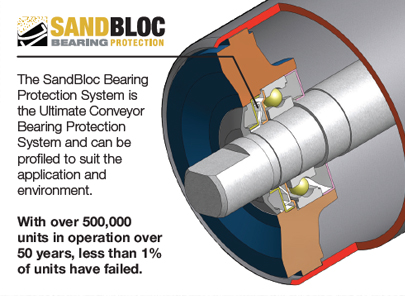 All our conveyor products are subjected to a comprehensive ISO 9001 Quality Inspection and are covered by a full 2 year warranty, subject to design specification and usage.